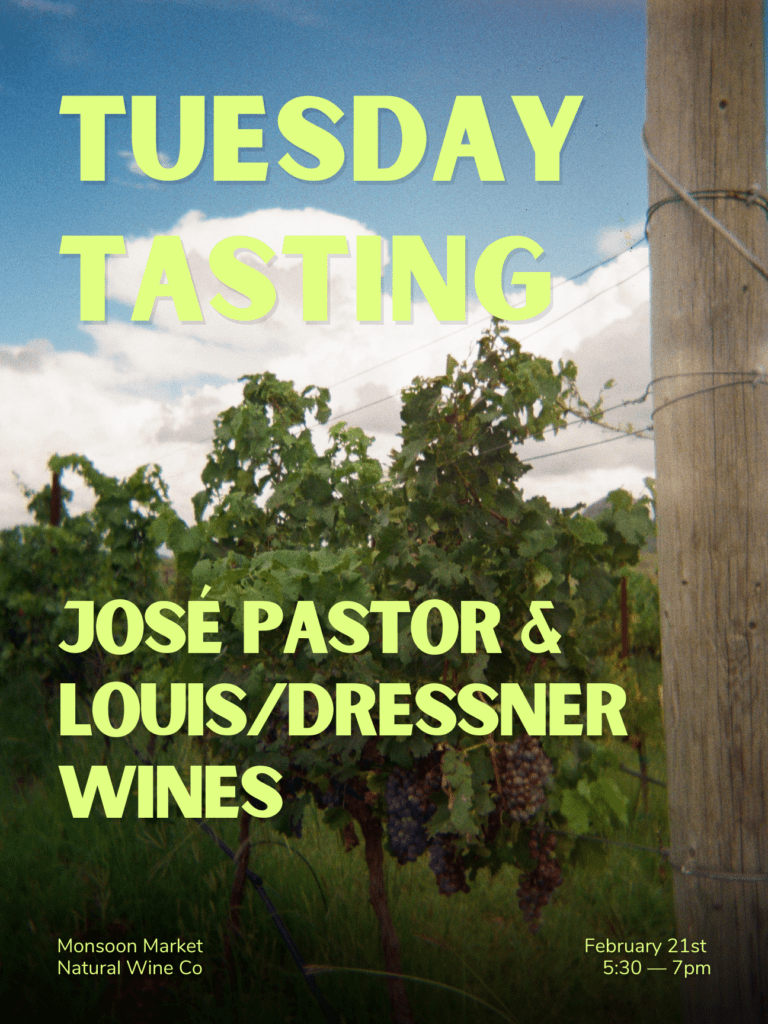 Tuesday Tasting at Monsoon Market
February 21
@
5:30 pm
–
7:00 pm
MST
Wine Tasting Event
We have some natural wine producer friends in town and want to invite you to a tasting at Monsoon Market on Tuesday. José Pastor and Louis/Dressner Selections, together with our distributor Natural Wine Co., will be in shop providing free samples!
José Pastor
José Pastor has been a driving force in the wines of "New Spain"; entering the scene at a moment in wine history when regional and traditionally made Iberian wines were disappearing and being replaced by an international style stripped of terroir. For close to two decades now, JP has been searching both established and up-and-coming regions throughout the Iberian Peninsula, its surrounding islands, and Latin America to find growers who respect their land by using the most natural means possible, often practicing organic and/or biodynamic farming.
Their portfolio focuses on small production, hand-made, low-intervention wines made with indigenous grapes, that speak to their terroir and the communities from which they have sprung.
Louis/Dressner Selections
Louis/Dressner Selections has never been interested in scores, in wines with "gobs of fruit," or wines with "over-this" and "over-that". What they are interested in is low-impact, organic farming methods and elegant wines, especially (but very much not limited to) those from the Loire Valley and Beaujolais. Their focus has always been on the vignerons. The people who make the wines; the group of growers who work their vines and create wines with honesty, passion and humor.
Join us Tuesday from 5:30-7pm for this 21+ event!