Shop Local At Monsoon Market this Small Business Saturday in Phoenix
This fall we are celebrating our second Small Business Saturday at Monsoon Market and we cannot wait for you to shop with us this holiday season! As your favorite central Phoenix neighborhood natural wine and snack shop, we're here to help you celebrate!
We've got you covered with the best party and hosting essentials, like natural wine, wild beer/craft beer, non-alcoholic options beverages like Kin Euphorics, De Soi, Ghia and plenty of snacks to share. Come see us this Small Business Saturday, November 26th 2022 and support small, local businesses this season!
Hosting a party, large or small? Email our Party Planning Committee at letsparty@monsoonmrkt.com for discounts on bulk wine and more!
When is Small Business Saturday?
Small Business Saturday is the best opportunity to support your local community by shopping with small businesses throughout Phoenix, Arizona. This year's holiday takes place on Saturday, Nov 26th 2022 and will run all weekend through Nov 28th 2022, Cyber Monday. Shop our extended hours at Monsoon Market everyday 11am – 8pm starting Friday, Nov 25th 2022, Black Friday.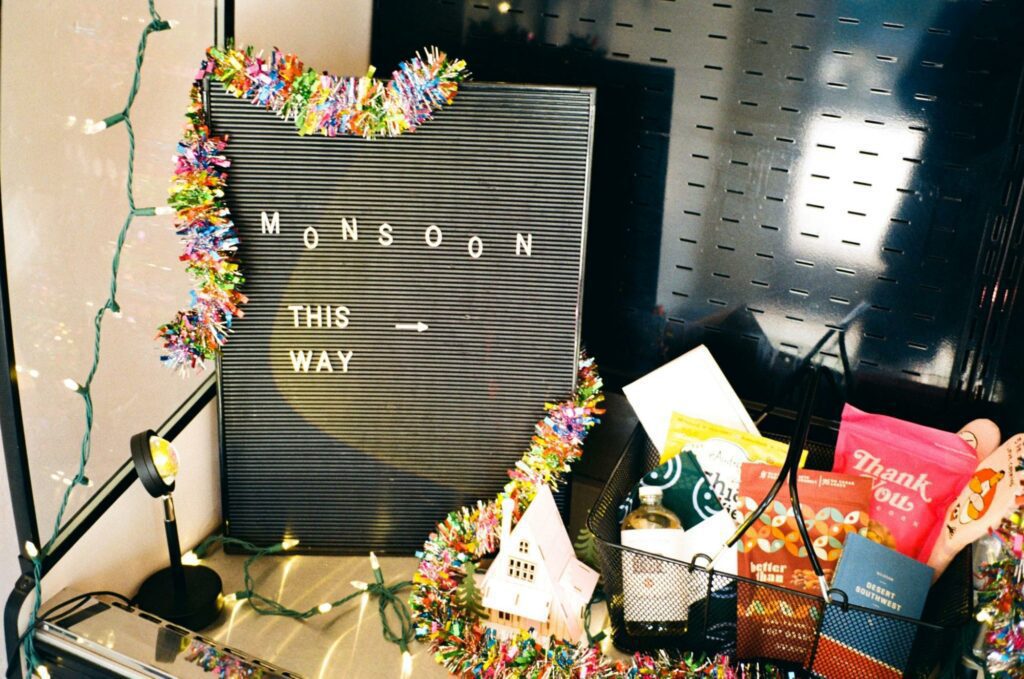 Why is Small Business Saturday Phoenix so important?
You've heard a lot about Small Business Saturday, so why is it so dang important?! We can see the impact that the success of Phoenix local business has on our community, helping to open doors for people to share ideas, create concepts, and build cool things together. By supporting Small Business Saturday in our local Phoenix area, you are helping to support our local economy – meaning putting money directly into the local community, the hands of neighbors, decision-makers, and individuals who are dedicated to making Phoenix be as unique, independent, and interesting as possible. Small businesses and the people behind them share in the responsibility to increase the value of our communities by paying tax locally, sending money to our local communities, helping to maintain places like parks, schools, emergency services or schools. Change first starts locally, and by spending your money with local businesses, you are casting your vote for a better Phoenix.
We are happy to see so many people moving west, moving to the Phoenix area, we hope you find us and let us help you shop for your loved ones this holiday season. Thanks for shopping small in Nov 2022 and always!
Change starts locally
To strengthen Arizona's community economy first, we must create an area that is committed to doing this. Support these other local arizona small businesses to find amazing holiday gifts for you and your loved ones: