Monsoon Market goes to LA!
There's one thing we try not to miss, and it's a good party. Our friend Andrea of Snaxshot throws the best parties, with the best snacks, obviously, and the coolest guest list. If you don't know her already, Andrea Hernandez is the Cult Leader of Snaxshot (her Linkedin bio reads) and you can read all about her & the Snaxverse in this Food & Wine article.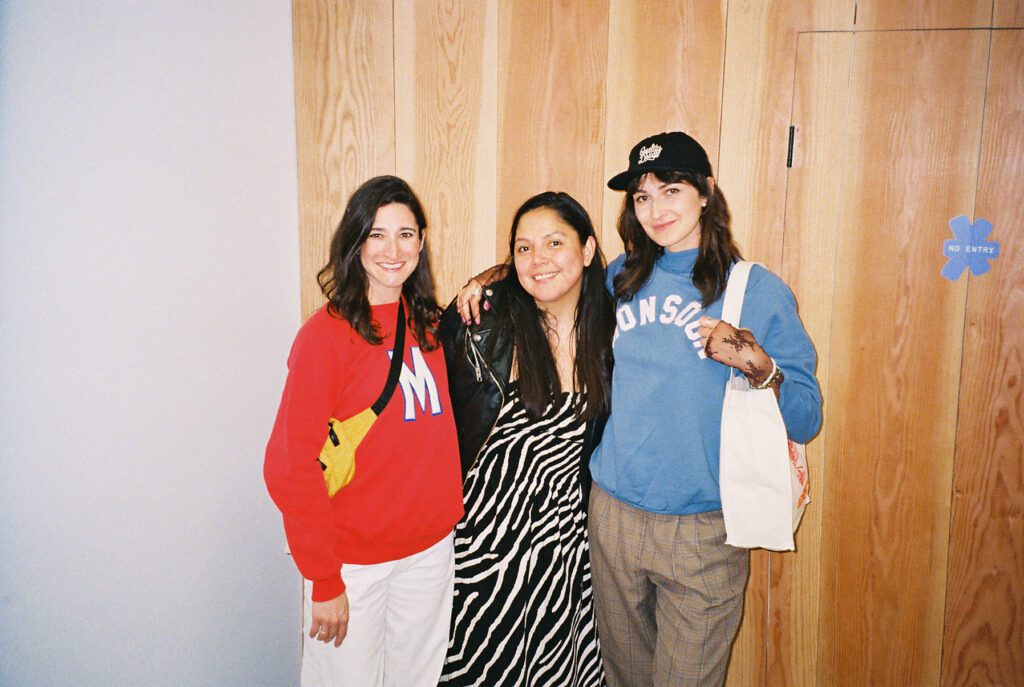 She throws a few parties a year where CPG aficionados, snaxbois and brand founders unite, typically in mecca cities like Los Angeles and New York. In 2022 we made it to both the Spring LA event and the NY Fall event, and had so much fun discovering new snacks and fun beverages to bring into the market. So even with a jam packed spring happening in Arizona, we said HELL YA we'll see you there and sent it on a last minute trip to LA.
We landed in Burbank, CA around noon and headed over to our hotel, the Palihouse West Hollywood. They were so cool for letting us check-in hella early, and once we got into our room we were freaking out because they had Kin Euphorics in the mini bar and Vacation products available for purchase! We carry both of these brands at the market and we were stoked to see them here. We can confirm that the Palihouse is snaxboi approved!
We quickly dropped our stuff off and headed out to explore. First stop was a dispensary that happened to be right by our hotel. Koral handled the hotel booking, coincidence I think not. Highway Cannabis (which used to be SERRA) is one of the most beautifully designed dispos you'll see. It's like a jewelry store, but instead of 24k carat gold pendants and crystal rings it's nugs of California Kush and pre-rolls.
It was a beautiful day in LA, no way we were getting in an Uber. Instead we chose the nice 20-minute stroll through the neighborhoods with a lit doobie. We made it down to Fairfax where we were hyped to eat lunch at Jon & Vinnys. Aside from being a regular lunch spot for Leonardo DiCaprio, there is a wine shop we're obsessed with inside: Helen's Wines. Our "luckiest girl in the world" manifestations must be working because Helen herself happened to be there! We got to chat with her about Monsoon Market and we splurged on some hard to find wines. To pair with lunch we snagged one of the last two Cariboom! from Domaine de l'Octavin off the shelf. It was perfect with what we ordered: the house Italian salad, the Lola pizza, an order of meatballs and mini cannolis…and one of nona's lemon cookies for dessert. Needless to say we were not holding back! Helen is a valley girl just like us, and we find her extremely relatable. We tried not to fangirl although we're big fans of her podcast, Wine Face, which has taught us a lot about natural wine. We had a kick-ass lunch here. Everything was delicious and Helen even sent us over a glass of cider on the house :')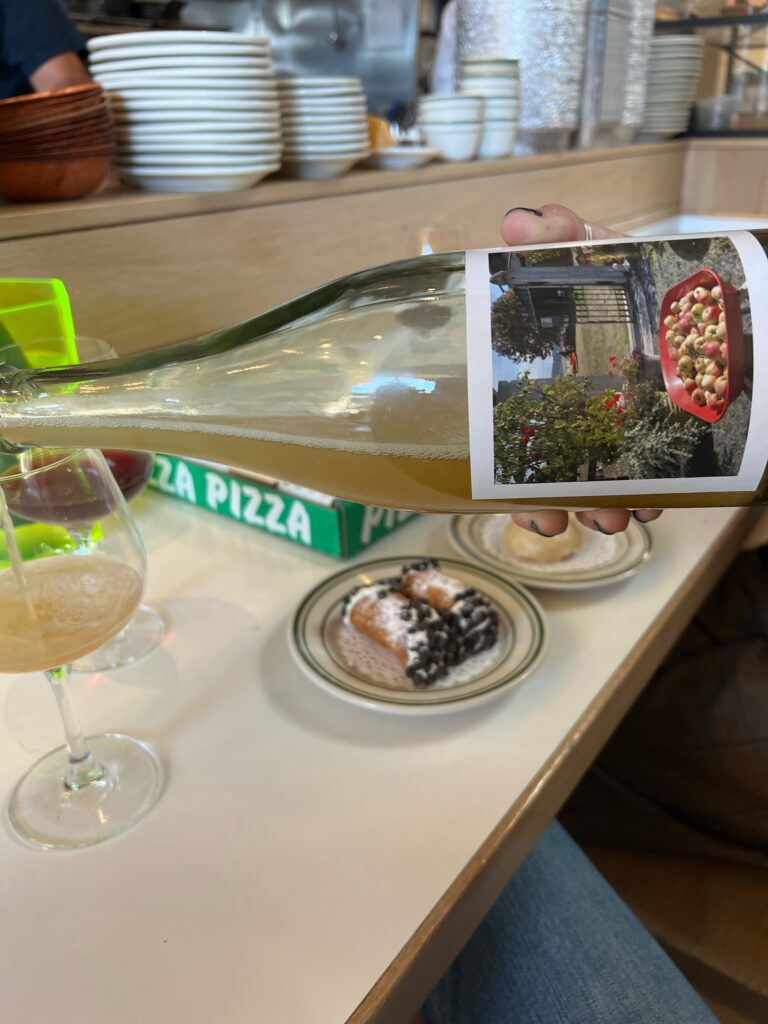 After we balled out at Jon & Vinnys we walked over to Erewhon to see what all the buzz was about. A very expensive, very LA grocery store supposedly packed with trendy brands and fun products. Our experience took us by surprise as it was more chaotic than we expected! It was Trader Joe's on a Saturday morning busy, which isn't the best setting to wander aimlessly through snack aisles while a little stoned. It was cool to check it out and see some of the brands we carry in the market on the shelves. The Erewhon-trends have undoubtedly piqued the interest of the masses and it has led them into neighborhood shoppy shops like ours. But we have to say that with a store that big, it's hard to have a super curated selection. What was on the shelves wasn't as exciting or as exclusive as we expected it would be. We ended up purchasing a few cans of Kin Euphorics because they were cheaper than the ones in our hotel mini bar (which at $8 a can is still a better price than some of the spots in Phoenix, no shade) and some adaptogenic mushroom chocolate bars for R+D.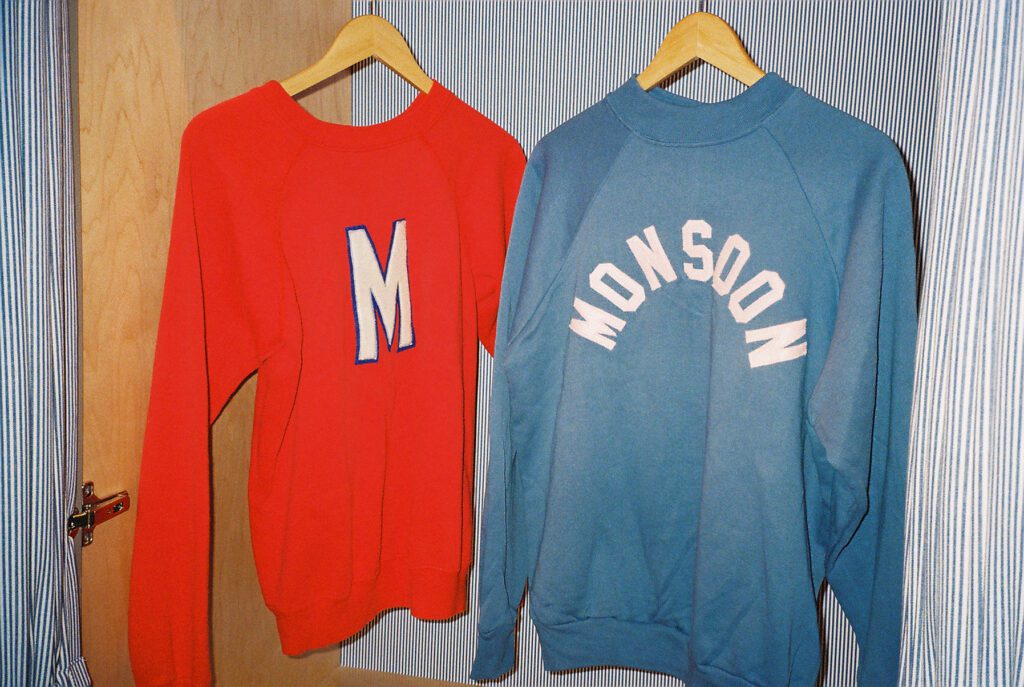 We headed back to the hotel to crack open this Matassa Rouge Brutal we picked up from Helen's and get some rest before heading to the Snaxshot x BevNET party, coined Brave New Snax World. A comfy hotel robe and a vibrant, juicy, natty glass of French red wine is how we like to pregame a party. It was time to throw on our one-of-one Monsoon Market pieces that our friend Sam from Century Flowers Vintage custom made for us… in one week I might add. Varsity inspired crewneck sweatshirts, with hand cut "MONSOON" lettering sewed onto vintage blanks. They turned out so sick, thanks Sam!
Headed to the party we grabbed our uber to the undisclosed location we were given, which turned out to be the De La Calle Tepache HQ. It was already on and poppin' with people everywhere and snacks sprawled on every table in every conference room. We immediately saw some friends like Steve of Leisure, Austin of Courtside, Mark of Dirtbag, Noah of Ruby, Camile of Crooked Owl Hard Tepache, PJ the sauce boss of Montes and Carson from Goodboy LA who was spinning records for us all night. It's rare to catch everyone from the East to West coast in one room. We even had some Canada brands in the house! As we did our rounds we made new friends like Eric of Louie Louie and Eric of Goodboy Wine.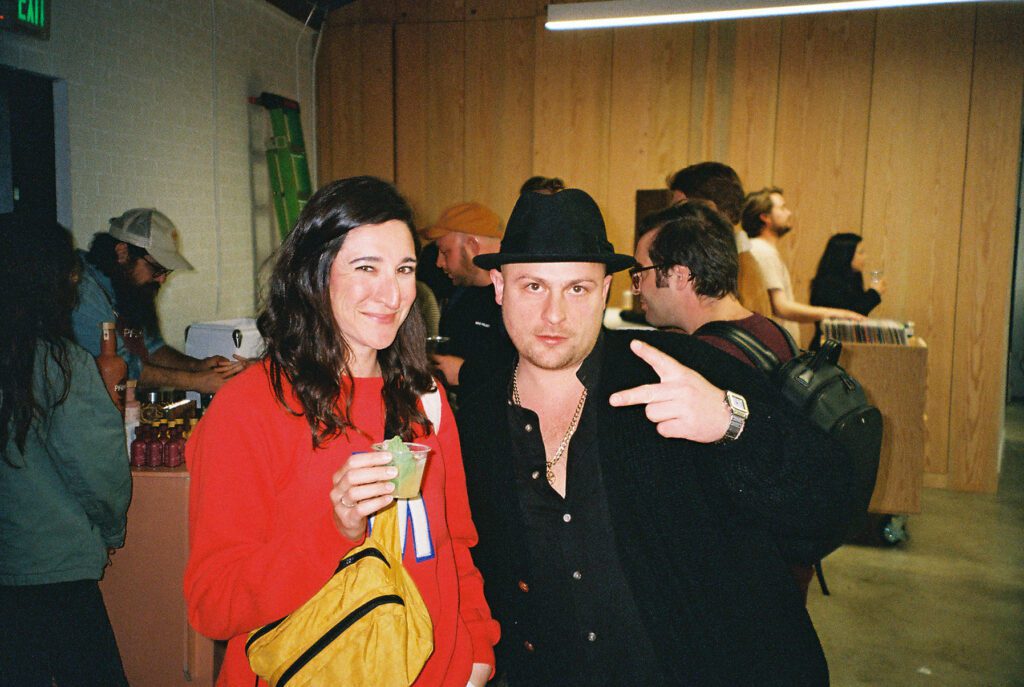 We recognized a friendly face from last year's LA meetup, Wei. A nice guy with a backpack strapped around his front, which is a signal for.. Hey buddy whatcha got in there? Not to our surprise, it was shrooms (the fun kind). He handed us two bottled bevys labeled "Toasty" on the sticker, and while we were throwing them back, he mentioned they were dosed at 2g each. Not exactly a microdose, but hey we were already committed. The rest of the night was jam packed with new introductions to brands and founders and snacking from the incredible spread featuring some of our faves like Fishwife, Graza and Zabs. The vibes were hittin' and this party didn't want to end. With janitors flickering on and off the light switch to signal us out, everyone got the message. It was closing time and it was Expo West week, a big week for these snack brands who were attending.
A routine bonding ritual, we ended the party with a shared joint with the Louie Louie guys before calling our ride back. We had big plans to meet up with Andrea and the crew later that night, but the hotel robes and open bottle of Matassa were calling. The next morning we re-cooped with some coffees and a morning smoke sesh before heading to the Burbank airport. We were back in Phoenix a mere 24 hours after we left. What a trip… until next time LA! Check out our recap reel here.