A Dry-ish January recap from your friends at Monsoon Market
Misch here, finally wrapping up Dry January, or "damp Jan." as we are calling her. Let's be real, it's tough to cut out alcohol entirely when you own a natural wine shop. Nevertheless, I did my best to eliminate as much drinking as possible and subbed in some seriously tasty non-alcoholic beverages in place. Luckily, Monsoon Market has the best non-alcoholic beverage selection in Phoenix, tucked inside our little wine store. Although it was tough, our n/a drinks made the challenge a whole lot easier. Let's dive in (to the n/a section)!
Why participate in Dry January?
People drink, and don't drink, for all sorts of reasons. We all know that the pandemic affected our drinking habits and it ranges from increased alcohol intake to abstaining from alcohol entirely. The holiday season usually means more celebrations, get-togethers and in turn, more alcohol! I feel all of this, although I've never challenged myself to stop drinking for an entire month.
Partially as an experiment for the market, and also because I wanted to see how reducing my alcohol consumption would make me feel — I accepted the challenge to take part in Dry January.
There's definitely many health benefits to reducing your alcohol consumption. Studies that show even a brief break from drinking alcohol can help with better sleep, increased energy levels, better skin, weight loss, etc. Not to mention the negative effects of alcohol related liver diseases and the more serious brain and heart damage as a result from serious binge drinking.
For me, a moderate drinker, taking part in the Dry January Challenge was a chance to evaluate my relationship with alcohol. Plus, the idea of saving money was enticing. I've never been a heavy drinker, but I was curious to see how I would handle the breakup with booze for one month.
Did I notice health benefits with less alcohol consumption?
I expected to see some immediate health benefits with eliminating alcohol from my almost daily routine. To preface, I am a 'glass of wine with dinner' kind of gal. My college days of heavy drinking and keg stands are long behind me. So although I don't drink in large quantities everyday, I look forward to my little beverage rituals.
To be transparent with my experiment, I stepped out of the Dry January challenge to enjoy some beers mid-January on a ski trip with some friends. Okay…maybe a few glasses of natural wine were had too.
Although I didn't stop drinking entirely, and made my own rules as I went, my alcohol use drastically decreased and there were a few things I took note of during the one month.
I had more energy, which makes sense. And although I didn't directly notice better sleep, I was having more dreams which probably indicates some deeper rest. Luckily, I am a pretty healthy person overall. I don't have high blood pressure and alcohol abuse and liver disease does not run in my family.
So did Dry January leave me feeling healthier? Sorta. But I also believe that drinking natural wine has had its benefits in comparison to consuming hard alcohol or beer. Because the alcohol I consume is mostly natty wine, I didn't notice a ton of physical significant improvements over the course of my Dry January. Natural wine doesn't have all the added sugar, chemicals or preservatives (which is a main disrupter to sleep and the cause of migraines). Natty wine also has a lower alcohol content overall, which is good for all of us.
The most important thing I observed throughout Dry January is how connected our drinking habits are to celebration in our culture. We're led to think that we have to partake in drinking to have fun. Even when the pressure isn't there to drink in social settings, are there really N/A options around at our gatherings and events? Not often enough.
For example, my friend closed on her very first home in January and I wanted to bring her a celebratory bottle of something to share. Immediately my mind went to a bottle of wine, but after eliminating that option, I was scratching my head. Good thing we just got in a killer N/A Chardonnay from No & Low! It even has a cork so it's something she could pop in celebration, because no one should miss out on life's simple pleasures like a good champagne shower.
Overall, I am leaving Dry January with a new appreciation for beverages in our market fridges, healthier drinking habits and an understanding of my relationship with alcohol. Maybe a month-long sobriety challenge isn't for me to win, and that's OK.
Okay, okay… so what non-alcoholic beverages are good?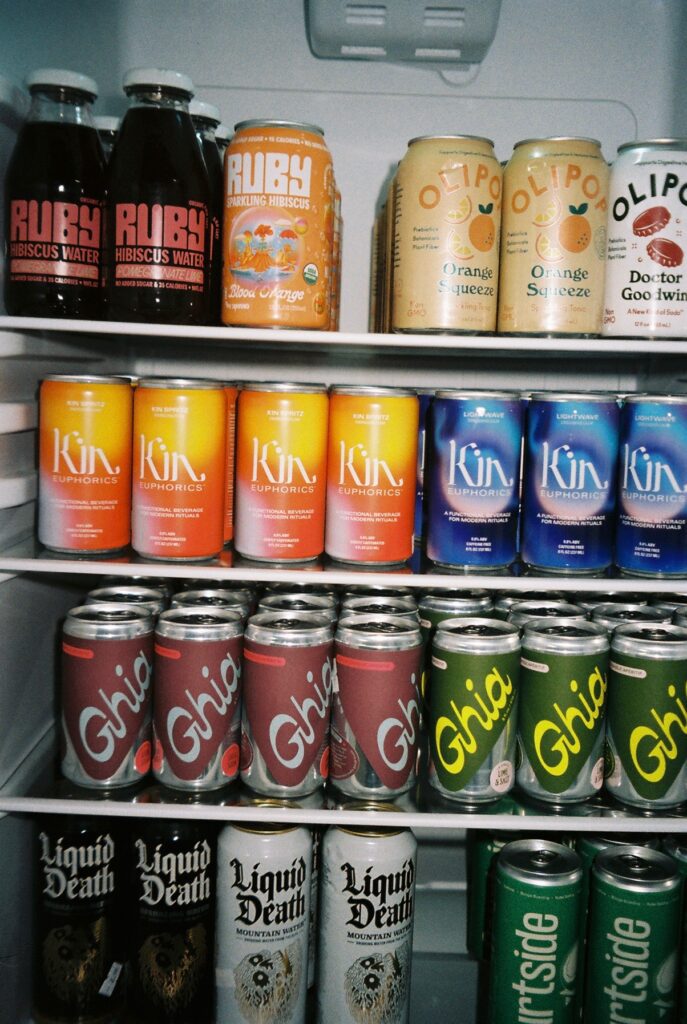 The most exciting part of Dry January was the exploration of all the fun beverage options at Monsoon Market! I've tasted every single drink we have in the market fridges and they are all so unique and delicious. Many of the beverages at Monsoon are not only sans booze, but they have good-for-you ingredients, like adaptogens and minerals. With these happy hour alternatives, you can be proud of yourself not only from having abstained from alcohol, but nourishing your body!
If you're thinking WTF are adaptogens? Adaptogens are natural substances, such as plants and mushrooms, that help your body respond to stress, anxiety, fatigue and overall well being. Adaptogens bring your body back to a steady balance by managing both physical and mental stressors.
A roundup of my favorite Dry January beverages from Monsoon Market:
*bottles and RTD (ready to drink) cans available at Monsoon Market
A negroni-adjacent aperitif, by the bottle it makes an amazing mixer, and in the can the Soda is a bitter delight. By the can, Ginger and Lime + Salt are perfect mule and margarita replacements, pour over ice and kick back and relax.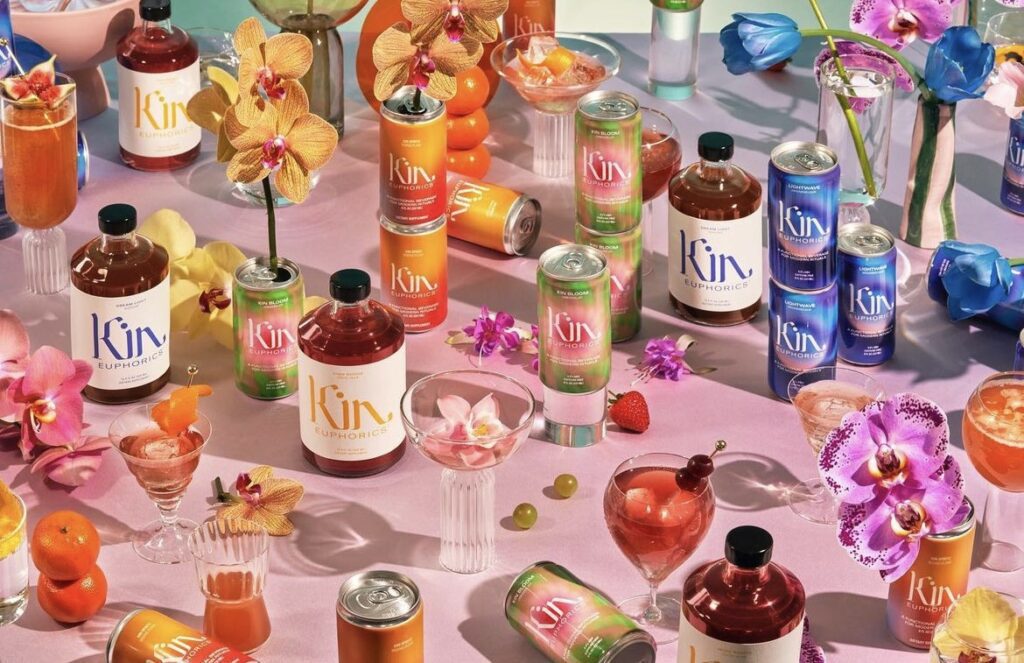 *current stock subject to change – these are a popular choice! Makes sense, since Bella Hadid is one of the founders.
Kin Spritz is gently caffeinated, infused with adaptogens, nootropics, and botanics like Rhodiola Rosea, 5-HTP, and Gaba to elevate your mood, smooth out stress and offer a boost of energy. Tastes like herbaceous hibiscus, ginger, and citrus. More bitter than sweet.
Kin Bloom is infused with adaptogens, nootropics, and botanics like Schisandra, Damiana, and L-Theanine to awaken passion, conjure a calmer mind, and unlock heart-opening joy any time of day. Tastes like strawberry rosé.
Monday non-alcoholic gin & whiskey
Endless mocktails, zero-proof drinks to be made with these. Also, gorgeous bottles with the art deco design make your barcart look stunning.
We love the options to have gin and whiskey replacements for those favorite cocktails like a G&T or an Old Fashion, sans alcohol. During dry January we welcomed Monday into Monsoon Market for a tasting and we have plans to bring it back, don't miss our in shop event February 27th!
A drinkable non-alcoholic apertivo, as self described. We love Figlia, it's made with all natural ingredients, no added sugar, no preservatives. It's also female-founded! Available in concentrate for mixing (just add sparkling water) or by the can, tastes like orange bitters, rose, clove.
No & Low Sparkling Non-Alcoholic Chardonnay
The best wine replacement in shop, this n/a chardonnay is incredible! A must have for parties and events year round, we can barely keep it on the shelves!
Athletic Brewing Co. non-alcoholic beer
We love a company that has values aligned with ours, like inclusion, and Athletic Brewing not only has a mission we can get behind but makes a killer non-alcoholic beer. Usually in stock at Monsoon we have the Cerveza, a light copper, the Free Wave Hazy IPA, and the Upside Dawn Golden Ale. These are super tasty and a great option when a beer sounds good but alcohol is isn't invited.
Visitor is a crisp, clean, lightly hopped non-alcoholic beer. It's also gluten-reduced and has the dopest packaging. Again, what is not to love? As they say on their site, all Visitors are welcome.
These new kids on the block have made quite a splash in AZ, makes sense since they come from Tuscon and have some pretty cool packaging designed by the recognizable artist Rise Wise.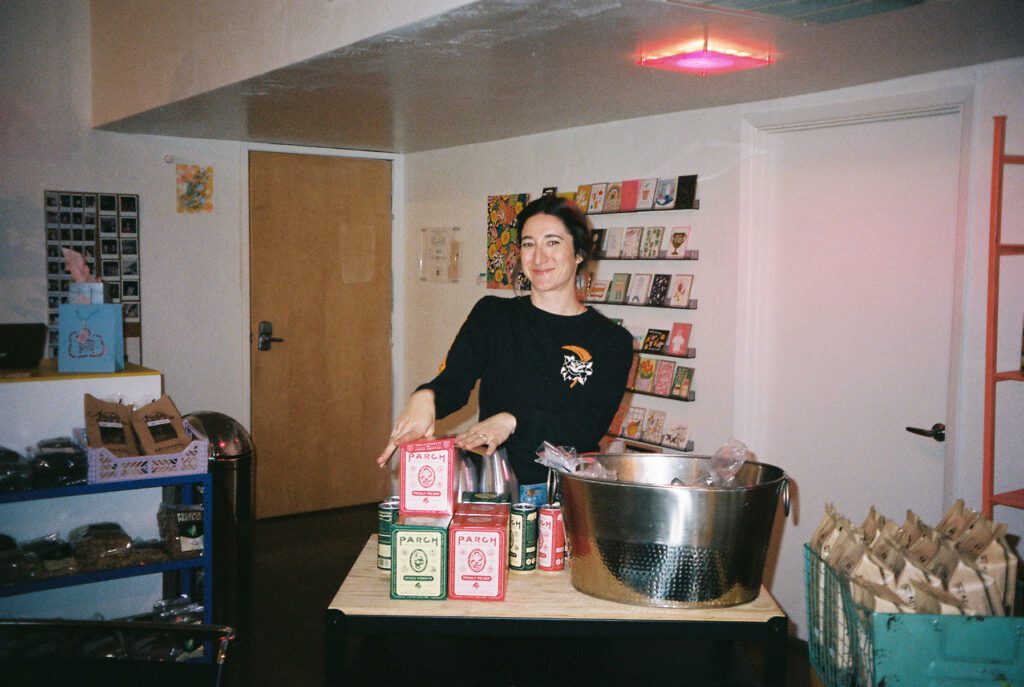 Parch beverages are the perfect mezcal replacement, smoky and complex, we love to pour these over a glass of ice and really make a moment out of the drink. The four adaptogens selected for Parch were chosen by a naturopathic doctor for their complementary effects. Ashwangandha is an anti-inflammatory that supports stress relief by lowering cortisol to aid relaxation. American Ginseng is an antioxidant that boosts the immune system and helps protect against stress. GABA is a nootropic that relieves anxiety and improves mood by calming the nervous system and L-theanine (from green tea) promotes wakeful relaxation without feeling drowsy. Overall they work together to enhance your body's ability to manage stress and maintain balance.
Kava is a popular root from the Pacific Islands that is incorporated into drinks to gain the "buzz" without the booze. Like everything here at Monsoon, we sampled Leilo before bringing it into the shop and out of several kava drinks Leilo was by far our favorite. The flavor is tasty and not too sweet with a very mild sparkle. Such a good alternative to CBD or just another fun drink to throw into the rotation!